Design Inspiration To Do "As You Like"
Michelangelo always considered himself a sculptor rather than a painter.  Those who might doubt that should read the translation of his poem, "To Giovanni da Pistoia," written to a friend to express Michelangelo's feelings about a certain project that involved brushes and paints:
I've already grown a goiter from this torture,
hunched up here like a cat in Lombardy
(or anywhere else where the stagnant water's poison).
My stomach's squashed under my chin, my beard's
pointing at heaven, my brain's crushed in a casket,
my breast twists like a harpy's.
My brush,
above me all the time, dribbles paint
so my face makes a fine floor for droppings!
My haunches are grinding into my guts,
my poor ass strains to work as a counterweight,
every gesture I make is blind and aimless.
My skin hangs loose below me,
My spine's
all knotted from folding over itself.
I'm bent taut as a Syrian bow.
Because I'm stuck like this, my thoughts
are crazy, perfidious tripe:
anyone shoots badly through a crooked blowpipe.
My painting is dead.
Defend it for me, Giovanni, protect my honor.
I am not in the right place—I am not a painter.
---
Yes, indeed.  Michelangelo famously did not enjoy the process of creating the Sistine Chapel ceiling.  And this despite the fact that the project—created between 1508 and 1512, is a world-renowned cornerstone work of High Renaissance art.  The story of Michelangelo's conflict with Pope Julius II, who commissioned the work, was even made into the 1965 five-time Oscar nominated film The Agony and the Ecstasy.
The Pope initially proposed a project encompassing twelve large figures of the Apostles to occupy the pendentives.   Michelangelo, however conflicted he might have been with painting versus sculpting, had something grander and much more complex in mind.
And when he laid out his plan for Pope Julius II, he was given permission, in his own words, "to do as he liked."
Ultimately, more than three hundred figures were painted and the project took over four years to execute.  It was finally completed and shown to the public on All Saints Day in 1512.
---
The scenes from the Book of Genesis, including The Creation of Adam  are iconic worldwide.  The hands of God and Adam have been reproduced countless times.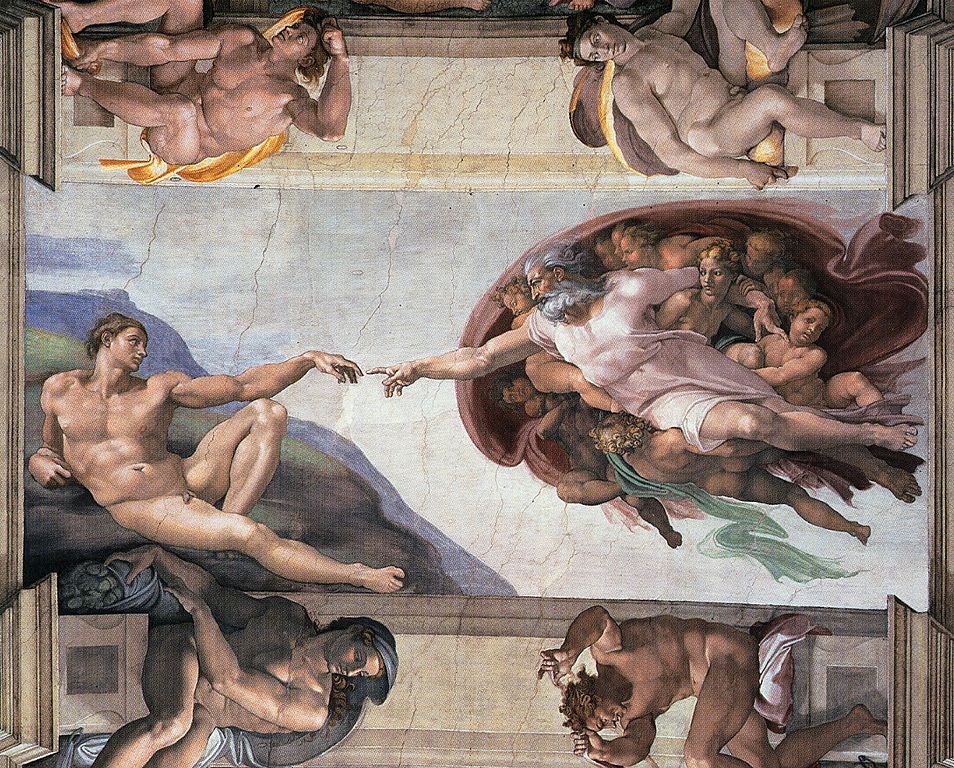 Technically speaking, the project was a tough one.
A support system had to be first built beneath the ceiling.  And the painting technique used by Michelangelo was fresco, in which paint is applied to damp plaster.   There were problems from the outset as the plaster– intonaco— began to grow mold when it was applied too wet.  It had to be removed, and the work begun again.  Ultimately, one of Michelangelo's assistants, Jacopo l'Indaco, created a plaster formula which resisted mold and became a standard for the Italian building tradition.
In fresco the plaster must still be damp, so each day it had to be applied to a new section–called a giornata.   As the day's work was begun, the edges of the giornata were scraped away and a new area laid down.  Even today the edges between the giornate remain visible.
Many fresco artists would use a full-sized drawing to transfer a design onto plaster.  Michelangelo, however, drew directly onto the ceiling.   Evidence of this can be seen from the outlines scraped into the plaster.
When the ceiling was finally revealed, Pope Julius II saw  it with "immense satisfaction," though later, as his enthusiasm cooled, he asked for a few enhancements.  When Michelangelo heard the Pope say 'It really ought to be retouched with gold,' Michelangelo responded with 'I do not see that men wear gold.'
The pope tried again, saying, 'It will look poor.'
Michelangelo's final answer?
'Those who are depicted there, they were poor too.'
So said the artist then, and so the work has remained.
---
Sometimes one pushes the boundaries of one's own abilities and comes up with something that far surpasses expectations.
Such was it with Michelangelo, whose Sistine Chapel ceiling was created, largely freehand, by a man who did not consider himself a painter.
It is also true that terrific work becomes famous and is associated more with the artistic creator than the person who commissioned the work.  Michelangelo's fame was increased exponentially by the ceiling of the Sistine Chapel and today second graders know it was created by him—while University students fail to recall the name of the Pope who commissioned the work.  And it seems only fair—the project may have been paid for by the Pope, but it was Michelangelo's vision.
---
Roos International has fostered 30 years of Design Inspiration.  Our purpose for being is fostering the vision of the architectural and design communities, and helping transform it into reality.  No matter what is needed for your project, Roos makes inspiring material selection easy, with the tools and guidance you need to create a lasting piece of work.
Demanding clients expect their chosen Architects, Contractors, & Interior Designers to create something unique and beautiful.  Come to Roos International and surround yourself with ideas that inspire innovation.  Ideas and products that will allow you do "do as you like."
Oberflex distinctive real wood veneer laminates, for instance– both beautiful and highly durable for any application:  walls, partition linings, furniture, and yes, ceilings.  Hot-pressing resin in the veneer provides an unrivalled resistance to scratching, abrasion, and impact.  Relief and brushed finishes bring a natural feel to the wood species and enhance the authentic appearance.
Roof makes it easy to design with these laminates with an online project gallery showcasing all four varieties of the Oberflex collection:  Prestige, Textured Wood; Spiced Wood; and Natural Shades.  Plus downloadable product data about each.  This type of help is exclusive to Roos International, as are these Oberflex real wood veneer laminates.
And that's only one example.  There are thousands of interior and architectural stories waiting to be told.  Come craft your own, with the largest selection of decorative surfacing materials for walls, surfaces, and ceilings all in one place.
30 years of Design Inspiration.
Roos International.